DC Courts' veterans on Veterans Day
From barbecues to parades, Veterans Day means something different to everyone, and no more so than to veterans themselves. While some simply appreciate the day off, others see it as a sacred day of remembrance to mourn those who are unable to celebrate it with us. While the DC Courts employ many veterans, no two vets have the same experience, and all view Veterans Day differently/
Several DC Courts veterans were interviewed about their military experience and their transition back to civilian life, as well as their feelings on Veterans Day in general.
One such vet was Ron Berry of the Information Technology Division, who joined the Air Force in 1978 and served for 21 years. He said that military service was all but expected of him. As a "military brat," a child of a military family, the Air Force was simply a stage of life. "I enjoyed the lifestyle, and it gave me the necessary skills to start a career." Ron's initial role in the Air Force was administrative, but he quickly moved into IT work, which allowed him to smoothly transition to his post-military career.
Dr. Tyrone Jackson, Acting Director of Human Resources, had a similar experience in that his service was a stepping stone to his current profession. While he initially joined the military to pay for higher education, he fell in love with the opportunities available to him. With rewarding work and job opportunities that allowed him to tour allied command in Europe, and a chance to serve under the first black general of the 59th ordinance brigade, Dr Jackson says he loved his 20 years with the US Army.
These experiences are a far cry from the experience of Judge John Fisher of the Court of Appeals, who enlisted with the US Army in 1969, one step ahead of the draft. He was sent to Vietnam where he said he was lucky enough to be assigned to a non combat position. While his military service did not directly translate into his career with the court, it did provide him with a wider perspective on life, a way of looking beyond immediate interests, he said, and helped him with self discipline.
Ashley Nicolas, one of Judge Fisher's law clerks, also served in the military. Ashley graduated from West Point in 2009, before serving as an officer for the US Army from 2009 - 2014. While patriotism was a clear factor is her decision to go to West Point, she also did it because of a passion for public service. This commitment brought her to her first job back in civilian life working for Teach For America and later brought her to the DC Courts.
Similar to Ron, DC Superior Court Judge Robert Rigsby came from a military family. Nearly everyone in Judge Rigsby's childhood was military and with his father was a Maritime Academy cook, so to him it seemed that military service was all but pre-ordained. Judge Rigsby fell in love with leading a platoon, and served as an officer in 1981, before also serving in the US Army JAG Corps as an attorney. He left the reserves in 2014 as a Colonel with 33 years service, both active duty and reserve.
Dr. Keith E. Robinson, with the DC Courts' Center for Education and Training, Joined the Navy in 1979 and served for 20 years. Like many others he joined for the structure a military life provides while also providing preparation for a future career. Not only this, but his military career allowed him to extend his education and see the world from the view of an aircraft carrier, Spruance class destroyer, Navy Annex, Naval Construction Battalion 1, and a host of shore duty commands.
Every veteran has a different story, and because of those stories, every veteran has a different way they commemorate Veterans Day and various ways they would like others to think about it. Judge Fisher, for example, would like to see more commitment to public service from society as a whole. "Recently I've been seeing more people more concerned with their own self interest and less concerned with the public service. Some greater attention to that from more people would be nice."
To some veterans, the phrase "Thank you for your service" has lost its meaning, and Ashley Nicolas is no exception. While the sentiments are there, she believes there are better, more thoughtful ways to thank veterans for their service. "Ask to hear their stories," says Ashley. "Their service means a lot to them, ask them about it and show them it means a lot to you." Similar to Judge Fisher's views, she articulated her preference as "it's better to show veterans you are thankful than to just say you are."
Dr. Jackson, on the other hand, appreciates the phrase 'Thank you for your service.' "If someone has given 20 plus years of their life, they deserve a thank you," he said with a smile. Most often, he spends his Veterans Day acknowledging those in combat positions. "I never had to go into a combat situation, but when I think about people who have been - as one vet to another - my thoughts go out to all they had to endure that I did not."
Ron Berry shares the appreciation of being thanked, and wants civilians to celebrate Veterans Day by taking a moment to acknowledge the opportunities they have because of the service that veterans provided and current members of the military provide. "Enjoy the day off, but recognize those that sacrificed everything to let you," he said. "It is not just the veterans who make sacrifices, but also the families of those in the military, as they have to bear the emotional stress while their loved ones are away.
Judge Rigsby shared a similar sentiment, that there are those who sacrifice time and health that must be remembered, and that the families of veterans deserve recognition as well. "The hardest part about serving is leaving your family, and they have it worse. When you're overseas all you have to do is do your job and stay alive, while your family is home, worried sick." He ended his statement by saying that freedom isn't free and it is up to civilians back home to remember what the cost is.
While the cost for some is their lives, the cost for all is time, and nowhere is this better exemplified than Keith Robinson's experience. Keith spent nearly 20 years of his life working 16-18 hours a day completely isolated from the rest of the world, with his shipmates being his entire community. For him, Veterans Day is good but is not enough. One day isn't enough to honor the sacrifice the men and women in the military have made.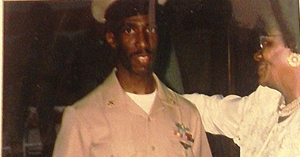 Countless men and women put their lives on the line in order to serve their country, and this Veterans Day, we want to acknowledge the service and the sacrifices made by those of our colleagues at the Courts.